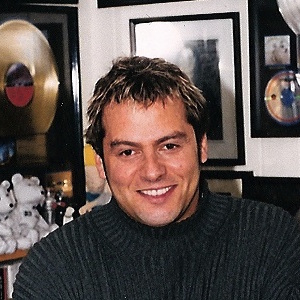 Legend of Vinyl Participant in signing the Declaration for  the International DJ Day Holiday .
                                                                      
Who hasnt he worked with? is the usual response when inquiring about producer, mixer, arranger and composer Steve Thompson.  Having worked with international giants such as Guns N Roses, Madonna, John Lennon, Wu Tang, Kong, Public Enemy, Whitney Houston, Metalica and Red Hot Chili Peppers, this multi-Grammy recipients discography reads like an A-list of the who of music.
Thompson has earned countless award nominations over the course of his career and is acknowledged in the sale of over 200 million records worldwide.
                                        
A native New Yorker, Thompsons youth was spent playing guitar in local bands.  He 
aughingly credits himself as a really bad guitar player.  Nonetheless, his passion, finely tuned ear and never ending drive for good music captured the attention of legendary music moguls David Geffen and Clive Davis who both mentored Steve early in his career.  It was Geffens label that gave Thompson his first real break in the rock genre, bringing him aboard as mixer on Appetite for Destruction, Guns N Roses breakout LP.
Thompsons work is continuously referred to as innovative and revolutionary appetite for Destruction was hailed as the ground-breaking album that took rock world by storm.  It went on to sell over 30 million units, earning Thompson the prestigious diamond award honoring sales in excess of 10 million records, his second one to date.
Despite his undeniable success in rock, Steve Thompson is a bit of a musical chameleon.  While most producers have been known to specialize in specific styles, Thompsons ability to adapt to, and master any genre of music makes him somewhat of rarity.
  
Starting out as a club DJ in New York, Thompson quickly carved a niche for himself as a successful re-mixer on some of dance musics greatest hits, including Aretha Franklins Whose Zooming Who, Madonnas Open Your Heart and Witney Houstons I Wanna Dance With Somebody which won a grammy for best song of the year.  In 1997 Thompsons mixing and production on ziggy Marley and the Melody Makers Falling is Babylon earn him another Grammy for Reggae Album of the year.
  
Rock, Metal, Pop, Dance, Hip-Hop, R&B or Reggae, regardless the genre of music, diversity is one of the many qualities that makes Steve Thompson a champion producer.  Thompsons star-studded and continuously growing list of clientele is as long as it is extraordinary, including but not limited to The Rolling Stones, David Bowie, Soundgarden, Tears for Fears, Duran Duran, Blondie, Earth Wind & Fire, B-Real from Cypress Hill, Saliva, Simple Minds, Talk Talk, Anthrax, Simple Plan, and Blues Traveler, which also won Thompson another Grammy for best rock song of the year.
2008-2009 has already seen the North American release of 8 Paradigms, the highly acclaimed and anxiously awaited Wu Tank CD mix by Steve Thompson and currently on numerous Hip Hop charts around the globe. On the list of new and exiciting artists produced by Thompson stated for release this season are: Renal, Patrizia, The Canadian Tenors, Ronnie Morris, Zameer and the bank called Bill from San Diego.
Steve is currently in production with some very exciting projects.  Amongst them is none other than glam metal rockers, LA Guns, with Marty Casey on lead vocals.  The songs are killer.  Its going to be a great album cites Steve. 

Right on the heels of the LA Guns production, Thompson heads back into studio with heavy duty head bangers Rise for Order.
  
Steve Thompsons skill in every aspect of production is consistently proven and withstands the test of time.

Transforming good songs into masterpieces that sell well beyond expectations is, without a doubt the specialty that has Thompson repeatedly heading the production of many a labels next big thing.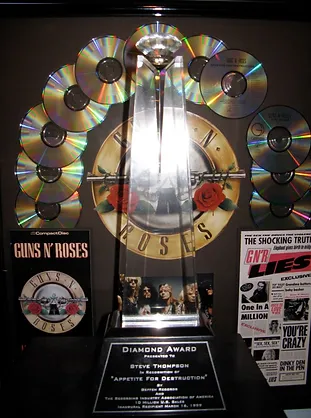 Diamond Award Presented to
Steve  Thompson
In Recognition of "Appetite For Destruction"
by Geffen Records And
The Recording Industry Association of America
10 Million U.S. Sales
Inaugural Recipient March 16, 1999