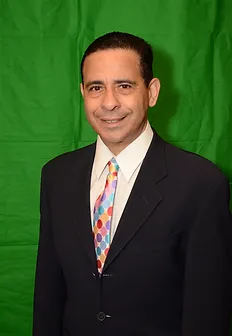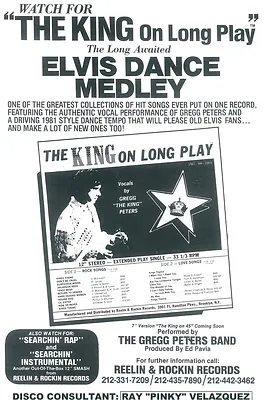 Ray Pinky Velazquez was the A & R man and consultant for the Vanguard dance music department from 1979 to 1984. Flip Records later became the dance-rock division of the label with releases by Endgames "First, Last for Everything" produced by Steve Levine of Culture Club fame, Lex and 14 Days, and Private Lives' "Memory of Your Name" licensed from Chrysalis Records in the UK but never released on the Flip and produced by Tony Visconti of David Bowie fame.
His incredible spinning abilities and award-winning City College NewYork WCCR AM progressive radio format, as music director, helped him land the job at Vanguard with the recommendation and assistance of the International Disco Record Center (I.D.R.C.), which later became the Record Pool Business Center (R.P.B.C) late president Eddie Rivera. Ray was hired by owners Seymour and Maynard Solomon who originally started the Vanguard Recording Society in the 1950's as an outlet for jazz, folk, country and classical music. Around 1977 Vanguard jumped on the Disco bandwagon and began releasing 12 inch Disco singles and lps by The Player's Association, Poussez!, Frisky, Roni Griffith, Alisha and others in large part through the efforts of Danny Weiss (producer) and Mark Berry (engineer). Despite being a small independent label Vanguard made an impact on the Disco and dance scenes right on up through the 1980's. In 1979 Ray was brought on board to help promote and scout for talent since he was a local working Disco DJ and knew the New York club scene. The nickname "Pinky" came about to eventually distinguish him from his dad with the same name and propel his musical career with a unique name that still holds true today. He was given the pinky name in the third grade by the tallest classmate at the time. Raised in East Harlem New York and surrounded by urban street rhythms along with salsa music which is in itself the street music of the Hispanic community. Ray also privately listened to everything at home from classical to Top 40 pop music and was inspired by melody and songs of the 60s super hit radio stations which featured rock-n-roll and Motown. Ray loves the piano presence and states that every good piece of music, in every category of music, carries a hidden jazz element . That is why jazz is such an integral part of the evolution of music. It soothes the soul when listened to. When asked which records he worked on best demonstrate this piano focus he replies, Fonda Rae's " Over Like A Fat Rat" and Carol William's "Can't Get Away From Your Love", Double Feature's "Boogie Down" – there's always room for the piano to jazz up the track. He cites early "house" music and gospel-oriented tracks like "Mighty High" by the Mighty Clouds of Joy absorbed at David Mancuso's Loft located at 99 Prince St in Soho New York as a general piano example, and the study of the late house music master Frankie Knuckles' house mixes on radio shows to further verify his point on the piano. Danny Krivit has a history in his upbringing with a noteworthy jazz root and so does Louie Vega, John Jellybean Benitez, Tony Humphries, Tony Smith, Tee Scott, Timmy Regisford, club Zanzibar's Larry Patterson, Francois Kevorkian, Joe Clausell, Walter Gibbons, Friends Again club spinner John Colon, the incredible ears of Jim Burgess and Tom Savarse, David Morales, Junior Vazquez, John Ceglia, Kenny Dope, Black Coffee amongst many others. The evolution of house music and its different categories including cosmic jazz house is further verification that jazz lives on and continues to evolve. Despite Ray's love for music and certain instruments, he admits he can't play or read music. He is not a musician and admits it. However he can hear in his mind a finished production and loves working with engineers and musicians that can tap into his pulse to provide a finished product.
Ray also had met and collaborated with Vibe records president Timothy J Olphie who was Public enemy's first known manager who brought Public Enemy to the Vanguard label in 1984 under the group name of Spectrum City and presented the group's first demo. Admiring the vocal qualities of the group, Ray pursued to have the group signed and re-produced the demo with their debut single entitled "LIES" backed with "CHECK OUT THE RADIO" Both tracks were produced and mixed by Ray after consultation with the group on what the tracks required for release on the Vanguard label. "Check out the Radio" was a featured track in the 1992 Oliver Stone movie and soundtrack "South Central". Ray also mixed another Public enemy track entitled "DO THE WOP" on Profile records by solo Public Enemy artist Aaron Allen. Soon afterwards Twilight 22 became an in-house Vanguard records pet project with Stevie Wonder protege and producer Gordon Bahary resulting in a huge success with "Electric Kingdom", "Siberian Nights", the jazzy radio r&b hit of "Mysterious" and the Twilight 22 lp that followed.
Demonstrating versatility with reggae fusion , Ray was involved in the dance edit of Eddy Grant's "Walking on Sunshine" the 6:12 limited version which was released after the initial 5:20 minute version on the CBS /EPIC label along with producing Denroy Morgan's "TOO MUCH TOO SOON" on the Buddah Sutra label as well as the licensing and remix of Junior Byron and "Dance To the Music" on the Vanguard label. Ray firmly believes in reggae fusion as it is visible not only in dance music but in rock and pop venues as well. Reggae influence has large roots into the dance music culture as witnessing the dance music success of reggae fusion artists Gwen Guthrie, Timex Social Club, Rocker's Revenge, Grace Jones, Denroy Morgan, Eddy Grant . Hard core political reggae music has had its history of limited airplay in the states and has always had its challenges on mainstream radio but more successful on secondary radio stations. But no matter how you look at it, it always has an interest in being linked to the progressive artist.
The Ipanema Discotheque:
The Ipanema was a very popular Brazilian restaurant/nightclub / discotheque owned by Brazilians and catering primarily to a Brazilian audience. It featured a hearty dose of disco and Brazilian samba music and competed with other Brazilian clubs like the Tropicalia and the Boombamakao. The Ipanema soon evolved to Disco music on most nights including Friday and Saturday, Brazilian on Sundays, R & B on Thursdays and Latin Salsa on Tuesdays. Not only did Ray spin disco music, but he also performed and played the all-Brazilian Sunday nights and the Thursday R & B nights. Ray also got to meet many radio personalities like Barry Mayo from New York's Kiss-FM, Frankie Crocker from WBLS-FM and Paco from WKTU-FM ,who would frequently ask for Ray's playlists to assist the local radio station expand on the dance movement along with reporting to trades such as Billboard and Record World (Vince Aletti and Brian Chin), Dance Music Report (DMR) and Michael's Thing. Ray stayed at the Ipanema up till about 1980, when he branched out to other styles of dance music and moved to the Upper West Side of Manhattan to an after-hours rock/funk club called Cartune Alley on west 84 st. He stayed here till 1982 and played everything from the Clash to the Romantics, APB, Romeo Void, New Order, dance rock tracks mixed with Disco, R&B, funk and Motown. Ray also did guest spots at Le Mouches, The Attic (in the Hamptons) GG'S Barnum Room to keep him busy. He credits David Mancuso and Eddie Rivera, 2 record pool founders for assisting him build a vast record library and a true inspiration to proceed with a legendary dance music career in their honor.
Pinky is currently active today.