Luis Mario O. Rizzo aka LMOR-DJ
Producer, Founder & C.E.O. of Legends of Vinyl™LLC & the L.O.V. Music Hall of Fame™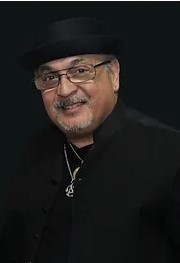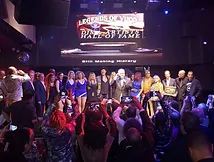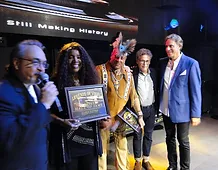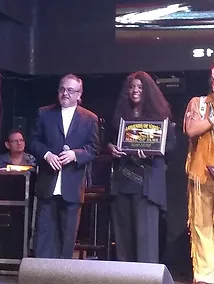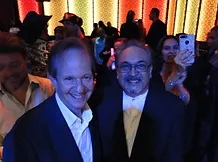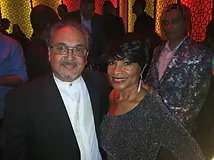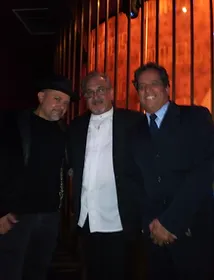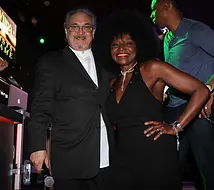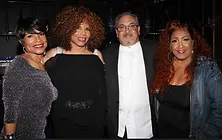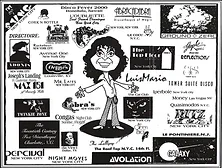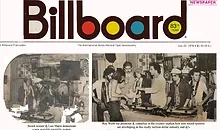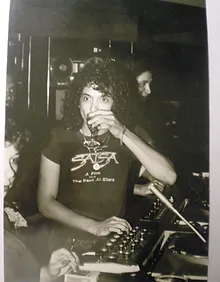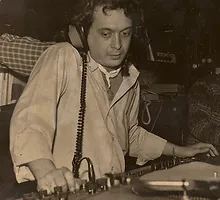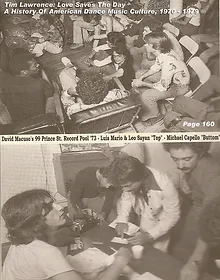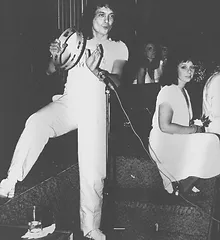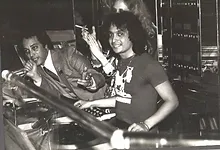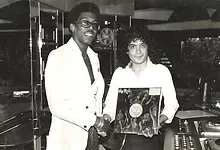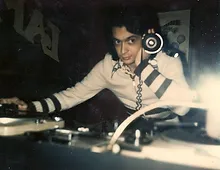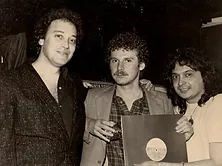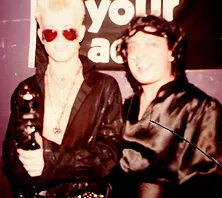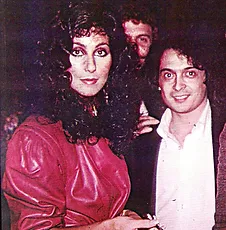 Given Luis Mario's date of birth – September 7, 1952 – 2022 will mark 51 years for him in this business. He is the Founder and CEO of the Legends of Vinyl™, and a producer, and – his first love and his beginnings – a DJ from the early days of dance music. It is the sound of music that led him to all of the above. As he says "music has no expiration date".
He has traveled nationally and internationally representing his talent as a DJ as well as producing and promoting Legends of Vinyl™ as an internationally recognized organization Legends of Vinyl™ is unique and esteemed in its endeavors.
As a young boy growing up Luis' home was filled with music from all different genres, classical, opera, and standards. Then he got a taste of R&R. At the ripe age of 10 his cousin had a party. Luis brought over his record player (no Technics in those days!) and she had a record player and this was his first DJ gig – two record players.
"I think I'm one of the fortunate people who selected my professional career while still in high school and not once have I regretted."
Luis Mario's professional DJ career started at the inception of dance music/club music 1969/1970, landing short-lived jobs and learning the trade by watching and then being an understudy for DJ Francis Grasso his wonderful friend, and mentor. Steve D'Acquisto and Michael Cappello also had a great deal of influence, in the early 70s, on his decision to become a DJ, and for the love of his profession.
In those days his playlists were similar to what Francis Grasso, Michael Cappello, David Mancuso, and Steve D'Acquisto were playing. It was a mix of Rock 'N Roll, Motown, Gospel, and R&B. There was no mixing involved; they were called "changes", and they changed a record from one turntable to the other using the only technique available at that time, called slip-cueing, created by Francis Grasso.
Years later, as he was one of the lucky ones to work seven nights a week, the word came around that there was a DJ in Queens that was using a new way of changing records. He immediately asked for a day off, and on a Wednesday went to see this man at a club called "The Monastery". As he walked in, he heard him playing and was mesmerized to hear one song blending into another without missing a beat. At the same time, he had noticed that other DJs were listening and paying attention to this new and fantastic way of blending songs. "I, for one, immediately applied that technique, and the mixing, as we know it, was born." He introduced himself to this DJ, as many did; he was pleasant and cordial. The DJ he is talking about is someone that he considers his friend, DJ Paul Casella. To this day they are friends in constant contact, and Paul became part of the organization that Luis Mario founded years ago, the Legends of Vinyl™LLC Organization & the L.O.V. DJ/Artists Hall of Fame.
In the early days before record pools, as pioneers, the DJs walked the streets of New York from one record company to the other picking up "product", as they called it. After working every night till 4 AM they got up in the afternoon and went to see the promoters to try to get at least one new record to play that evening. On top of that, they hit the record stores to see if they missed anything.
In 1973 after hours/underground clubs were too few to get into as a DJ so, just like so many other DJs, he had to join the mainstream clubs. He landed a job at Mr. Laffs, owned by Art Shamsky and Phil Linz, two ex-Mets players, on First Ave and 64th Street in NYC. In a matter of weeks the line of people outside waiting to come in extended around the corner. They were coming in to partake of the wondrous musical trip that educated the minds of all of his following based on his beginnings in The Electric Circus, The Sanctuary, The Haven, Machine 1, The Jungle, The Loft, and Superstar.
Creative DJs had a passion and conviction to make people dance, that was their routine and their satisfaction was to make a difference that evening. Luis Mario believes that they did make a difference because they created a lifestyle based in dance and nightlife.
In 1974 he is proud to say that he became a member of the first Record Pool, 99 Prince Street (David Mancuso). He remembers meeting a group of disc jockeys, the original masters, the first generation DJ's and he was part of it. DJs like Walter Gibbons, Bobby "DJ" Guttadaro, David Rodriguez, Steve D'Acquisto, Al Garcia, Leo Sayan, Eddie Rivera, Paul Casella, Michael Cappello, etc. (See photo of the Record Pool meeting on page 160 of the book Love Saves The Day by Tim Lawrence).
In 1977 after David Mancuso closed the Record Pool then Judy Weinstein and Eddie Rivera formed their own respective record pools. Luis became a member of Eddie Rivera's Record Pool, I.D.R.C. (International Disco Record Center). There he met the second generation of top DJs of the mid to late-70s.
Luis Mario was the first DJ to pioneer "touring" across the country and abroad in the mid-1970s, representing New York club DJs throughout the country as well as David Mancuso's and Eddie Rivera's I.D.R.C. Record Pools.
In 1974, he was delighted to open "El Jardin" in Isla Verde, Puerto Rico. After a few months, he came back to New York, and a dream came true when he was asked to play at membership only, after hours private club. This club had the underground atmosphere touch; that's why he felt at home. The place was called Cobra's Lair, a most decadent atmosphere, where the artists, from musicians to actors, would come to hang out. Cobra's was on the seventh floor of 18th and Broadway, owned by Dennis Johnston/Dennis Cobra. The ambiance started in the elevator where a dancer from the Trocadero Ballet Co. (a gay ballet company) would welcome you with a differently decorated elevator every Friday and Saturday night. Seven floors up you walked into a living room where the "hostesses" were several cobras and other snake species in a large enclosed aquarium. You could actually trip your night away watching these snakes munch on guinea pigs and rabbits. Enough said!!! What a trip of a job that was – he loved it. Throughout the 1970s he worked at such clubs as Le Cocu, The Sting, Directoire/Twinkle Zone, Abracadabra, Cork & Bottle, The Ritz, Night Moves, Reflections/Ginza, Adonis, The Tower Suite Disco, The Rooftop, DVA, Les Mouches, Studio 54 (a couple of times as a guest DJ for private events), The Top Floor, Avenue One, Seconds, Percival, L'oubliette, Rockabout, Magique, Somebody's, Chip n Dales, Mr. Laffs, The Rainbow Room, Top of The World, Avolation, Melons, Levels, Stillwind, Iperbole, The Lollipop, Green Parrot, Galaxy, Ground Zero, The Cat Club, The Copacabana, and many other clubs for which he was in demand that he can't remember. This was just in New York.
In 1975 Luis met producer promoter, Roy Webb, soon to become Luis' manager.
At the 1977 Billboard Convention, in which Luis was a participant at the convention, he met a disco producer, Jessie Sertain, who had an idea for a great project in Honolulu, Hawaii. Luis was chosen to be part of Disco Fever 2000, his second out of state performance.
When he got back to New York he was approached by Phil Gary, the man who brought the Rolling Stones to the States. Phil was interested in Luis Mario's ability to make a night an unforgettable experience and got him more out-of-state gigs.
He also toured in Dallas, Texas – daVinci; (with Roy Webb – see below) Beverly Hills, California – Max 151; Charlotte, North Carolina – 20th Century Fox; Louisville, Kentucky – Octaves, Las Vegas Paul Anka's – Jubilation.
Luis became the first club DJ to perform live, for four hours non-stop, on New York's Radio 92 WKTU FM in1977, a concept created by Roy Webb. As the radio station was creating a show to have famous DJs playing continuous music throughout the entire four-hour show, just like in the dance clubs.
With Roy managing Luis – he secured Las Vegas and Luis was on his way to "Kill Disco", televised nationally at Club Money. Luis made history by "killing" Disco to introduce the "New Wave" era, broadcasted around the world by Entertainment Tonight in 1979.
When he came back to New York he landed at the world-famous The Copacabana until 1983. He was then, once again, called on by Roy Webb to open one of the most unique club/cabaret/theatres to hit New York, The Cat Club. He had the pleasure to share the DJ booth with one of the greats, his friend Paul Casella. For three more years he carried the responsibility to keep himself on top of the game.
In the mid and late 80s, he was pulled in so many directions by club owners who wanted the same concepts that Luis had created for other top named clubs.
The 90s came, and he was ready to tackle South Florida, opening one club after another, and keeping the endurance and energy to land major contracts. He had the opportunity to work for and own clubs in South Florida – the famous "Lounge" in Coral Springs, Coco Loco's, Joseph's Landing, Pranzo's, Conga's, Deco Drive, Score, Miami Joe's, Tantra, Polo Lounge, La Sensacion, Cory Cafe, Club Savoy, Platforms, Hunters. Now, in the new millennium, he has reached so many highs that he is changing once again with the new era, and, to this day in 2019, The Legends of Vinyl™ and the L.O.V. DJ/Artist Hall of Fame are respected and legitimate entities. They are achieving new heights for the future. As a leader of the Legends of Vinyl, he feels not just responsible, but he also feels that it is imperative, for him to keep their legacy intact and to guard their integrity for which they have worked so hard through the years. He feels that it is important, to tell the truth, and to find individuals that are spreading the wrong information about their history in social media and other avenues and, finally, to teach the audience and the new generation how they have built this industry and how they have paved the way for them.
In the new millennium, he is also reaching for new levels in playing; embracing the new technology, and feeling confident as he entertains his audience. He has teamed up with wonderful friends in the industry; iconic DJ's to bring new concepts to their audience.
In 2019 Luis (on behalf of Legends of Vinyl™), with Lenny Zachatak (aka Gonzalez) our European Administrator and Board of Director, were invited to Italy by Francesco & Cristina Tassanari, founder and co-founder of one of the most successful European festivals "Disco Diva". The festival was in Gabicce Mare, Italy. Luis performed and had the opportunity to present Hall of Fame awards to George McCrae, Christine Wiltshire, Rochelle Fleming, and DJ's Claudio Mozart Rispoli & Daniele Baldellini. The Legacy Award was given to two top Italian writers, Andrea Angelli Bufalini and Giovanni Savaspano, composers/writers of the book La Storia della Disco Music, where we, Legends of Vinyl™, are noted. The Legacy award was also given to the owner of the first disco club Giancarlo Tiroti.
And as far as Luis is concerned – Legends of Vinyl™ will return to Italy and to cross through Europe. We, the Legends of Vinyl™, are continuing our commitment to our family in Europe in 2023 where the tradition will continue.
Using this history, Legends of Vinyl™ will continue to highlight and honor Pioneer DJs who are still actively performing the art of spinning vinyl records for audiences to enjoy listening and dancing to today. He expects to tell the story of capturing this aspect of music history in a book to be published in 2023 entitle, "My Life, My Music, My American Dream".
Articles:
ROCK NYC The 7th Annual Legends Of Vinyl New York 2022 Music Hall of Fame Awards At Queens Theatre, Tuesday, September 13th, Reviewed
The 7th Annual Legends Of Vinyl New York 2022 Music Hall of Fame Awards At Queens Theatre, Tuesday, September 13th, Reviewed
Legends of Vinyl Founder/CEO Luis Mario O. Rizzo Celebrates Disco Music Spun by Deejay Greats Through His Annual Awards
Legends of Vinyl Founder/CEO Luis Mario O. Rizzo Celebrates Disco Music Spun by Deejay Greats Through His Annual Awards
Luiz Mario Rizzo's Legends Of Vinyl's "Gala Awards Night" Returns On September 14th, 2021: Exclusive Luis Mario Interview
Luiz Mario Rizzo's Legends Of Vinyl's "Gala Awards Night" Returns On September 14th, 2021: Exclusive Luis Mario Interview
Disco Patrick's Interview With Luis Mario Orellana Rizzo
https://www.discopatrick.com/19-luis%20mario.html
The 2021 "Legends Of Vinyl's "Gala Awards Night" New York DJs and Artists Hall Of Fame, Tuesday, September 14th, Reviewed
The 2021 "Legends Of Vinyl's "Gala Awards Night" New York DJs and Artists Hall Of Fame, Tuesday, September 14th, Reviewed
A Night At The Copacabana Night DJ Luis Mario
11-5-1982 Part 1 New York City
Platforms was the Hottest Dance club In Boca Raton in 2011.
Luis Mario "Flaco" Orellana played for 9 months
Luis Mario "Flaco" Orellana & Ray Pinky Velazquez
South Florida Tour – 2011
Luis Mario "Flaco" Orellana Gets To Kill Disco And Introduce The New Wave Era In Las Vegas – 1979 Televised Nationally on Entertainment Tonight.
I would like to say how much I enjoyed being part of this documentary film "Discotheque" The Movie Produced by Efren Castellanos and Vanessa Rivera. Thank you Efren and Vanessa and all those involved in the making of the film for allowing me to bring to the front the history of the beginnings of the dance culture from the DJ booth perspective. I'm happy that I had the pleasure to mention my mentor Francis Grasso, David Mancuso, my manager Roy Webb and Paul Casella because these people are so relevant to the inception of the culture. The film captures the history and it is validated by the people in the film.
MISSION STATEMENT and CODE OF ETHICS
"We are the Legends of Vinyl, the Pioneers and Innovators of Our Art. Our mission is to recognize the accomplishments, past and present of our peers. It is to celebrate our history and to create and sustain our legacy for generations to come. Above all, we support and encourage each other in all of our endeavors."
Each member of this organization should be proud and honored to have been chosen by their peers and be recognized. Each member should refrain from making negative or accusatory statements, either written or verbally. Your peers should be treated with encouragement and respect. Any grievances should be brought to the attention of any member of the Board of Directors where this can be acted upon. Accordingly, any member who does not wish to continue to associate with this organization may request that their name be removed.
Adopted by the Legends of Vinyl™ LLC Board of Directors on November 11, 2014.
STATEMENT OF FACT
The Legends of Vinyl™ is a nationally and internationally recognized organization.
The Legends of Vinyl™ DJ/Artists Hall of Fame listing was created by the Legends of Vinyl for the Legends of Vinyl. It is in no way, shape, or form a part of, associated with, or affiliated with any other list that may have, does, or will exist.
The Legends of Vinyl™ organization, as a private entity, reserves the right to include, add, or delete any name or group of names from the Legends of Vinyl™ DJ/Hall of Fame listing.
The Legends of Vinyl™ organization stands on its reputation and history. There are claims that we put out "fake" DJ history. No, we make history! The individual(s) making these claims may have a history but, as previously stated, will not be part of The Legends of Vinyl because this organization reserves that right.